Cordell Bank National Marine Sanctuary provides a protected environment where iconic marine mammals such as sea lions, dolphins, porpoise, blue and humpback whales can thrive. It also helps preserve coral reefs and provides a spectacular environment for over 20 species of rockfish. An array of rockfishes occupy habitats ranging from schooling yellowtail rockfish up in the water column to solitary yelloweye rockfish hovering near boulders at the base of the Bank. Due to the extreme depth and dangerous conditions, Cordell Bank is not a site for recreational SCUBA divers. Only highly trained, technical divers have witnessed its beauty and fragility first hand. Their stories, photos, and videos show us what this special place holds.
View a Story Map of the Cordell Bank NMS
Take a visual tour of the Sanctuary via this story map.  Photos and video taken with a remote operated vehicle (ROV) in 2014 illustrate the abundance of life in the Sanctuary.  Sanctuary scientists add text that explains why this offshore area, 52 miles northwest of San Francisco, is so vital to the health of sea life in the region.  The tour explores the geology of the Cordell Bank, potential impact of global climate change and ocean acidification, invasive species monitoring in the Sanctuary, and the ROV as a tool for scientific research.  Take the ROV dive tour to learn more about the Sanctuary and see it for yourself!  Click HERE to take the tour!
LISTEN: Ocean Currents radio show archives!
The Cordell Bank National Marine Sanctuary radio show on ocean topics, hosted by Jenny Stock, is now available as a series of archived podcast recordings.  Dive deeper into ocean science and hear experts discuss a wide range of subjects.  Click HERE to listen!
The Oakland Museum of California has a permanent exhibit on Cordell Bank.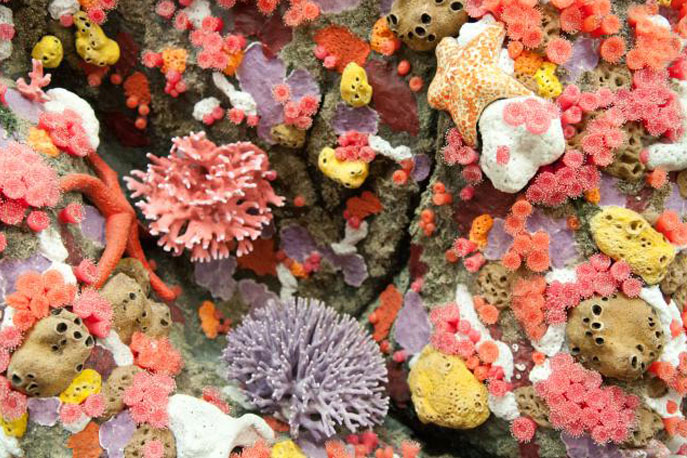 In June 2013 the Oakland Museum of California opened a new permanent exhibit on Cordell Bank. It is the largest and most extensive of a group of exhibits on California environments. The displays of the Cordell Bank are extraordinary, and well worth a journey to see. The picture above is of a diorama at the museum featuring the highly specialized and beautiful marine animals that reside at the Cordell Bank. More information about the museum.